Axis Hydraulics design and build bespoke hydraulic power units to suit any client requirements. Each system is designed and engineered to your specific requirements to give you the most effective and cost competitive solution to your hydraulic system requirements. We can build systems from 1.1kw to 250kw electrically, diesel or generator powered, fully tested within our workshop.
Working in a number of industrial applications we recognise the challenges of the varying environments and requirements they bring, creating powerpacks to suit ATEX Rated/Explosion Proof areas, International standards (CSA, UL), and other hazardous environments (Stainless reservoirs).
Recent Projects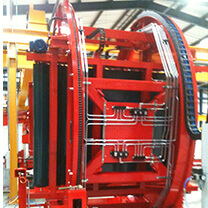 Foundry Former Rollover
Complete system designed, delivered and commissioned in 6 weeks.
Two Independent belts enclose a mould, each belt controlled by 4 balanced cylinders
Rotation controlled using proportional speed control
Complete pipework and hose installation with pressure testing and flushing.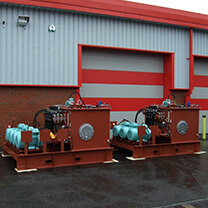 Aluminium Smelting Tilt Furnace Hydraulic Power Pack
Supplies the hydraulic power to tilt a large scale aluminium smelting furnace.
5off Powerpack systems
System designed for atmospheric conditions of United Arab Emirates.
Lubrication System
2 x 7.5kW Electric motors coupled to 270lpm screw pumps with relief valves.
Duplex filter assembly (25micron ST ST Mesh)
Oil/Water cooler (100kW capacity) c/w 3way Thermostatic By-pass Valve.
Control Panel Fully wired in.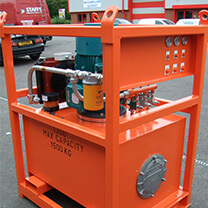 Offshore Drilling Head Hydraulic System
Fully assembled, tested and EC certified hydraulic power pack.
6 off System from concept to delivery time of 9 weeks.
Plug and Play system.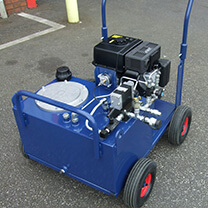 Portable Cable Tensioning Hydraulic System
30T, 700 bar power pack.
Brief was to double the speed of the existing system in place.
Specially designed hollow cylinder to tension steel cables for bridges and construction.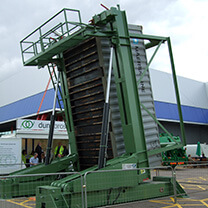 Hydraulic Power Pack for Shipping Container Lift
System designed for ATEX Zone 21 conditions.
The system was designed to lift from 0-40⁰ in 1 minute.
System completed in 7 weeks.